Home » Solutions » Internal Audit
Internal Audit Solutions
At Deblankson we understand that governance, risk management and internal control provides a pivotal framework for business success. This is why high-quality internal auditing can play a key role in the success of an organization Deblankson Professionals will work with your current internal audit teams, Audit Committees and board members to produce the maximum benefits obtainable from your internal audit efforts. We are mindful that in today's economic climate cost is a key driver in deciding where to focus effort and resources. Deblankson will work with your teams to get the best 'bang for the buck' with regards to audit spend.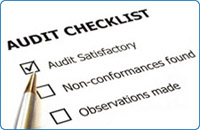 Our internal audit solutions include but are not limited to;
In Focus
Financial Regulatory Reform: The Fundamentals – A guide to understanding the proposals presented by the Obama Administration to reform regulation of the financial services industry in the U.S. and the impact that these proposals will have on the industry.

IFRS – An Overview of the International Financial Reporting Standards, the key differences with the US Generally Accepted Accounting Principles and its impact on organizations today from a business, financial and technology perspective.

IT Internal Audit – This white paper highlights some leading edge observations on current trends and challenges facing the IT internal audit landscape.

Program Management – Learn more about Deblankson's approach to program management.