Home » Solutions » Enterprise & Operational Risk
Enterprise & Operational Risk Solutions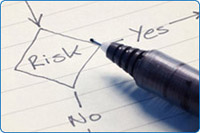 The first step in the risk management process is to acknowledge the reality of risk. Denial is a common tactic that substitutes deliberate ignorance for thoughtful planning. In today's economic climate many corporate executives are under pressure to better understand the risks facing their organizations and how risks may affect corporate strategy.
Deblankson's Enterprise & Operational Risk Management solutions can assist an organization implement a sustainable program by conducting a risk assessment, assessing current state of risk management practices, developing a practical road map to achieve desired state of risk management, transferring knowledge and providing training to ultimately support a successful risk management initiative.
Our services in this space include but are not limited to;
Enterprise & Operational risk strategy development and implementation
Risk assessments
Risk monitoring and dashboards implementation and improvement
Regulatory Compliance (SOX, AML, Basel II, GLBA etc) advisory
In Focus
Financial Regulatory Reform: The Fundamentals – A guide to understanding the proposals presented by the Obama Administration to reform regulation of the financial services industry in the U.S. and the impact that these proposals will have on the industry.

IFRS – An Overview of the International Financial Reporting Standards, the key differences with the US Generally Accepted Accounting Principles and its impact on organizations today from a business, financial and technology perspective.

IT Internal Audit – This white paper highlights some leading edge observations on current trends and challenges facing the IT internal audit landscape.

Program Management – Learn more about Deblankson's approach to program management.