Home » Solutions » Internal Audit » IA Co-Sourcing
IA Co-Sourcing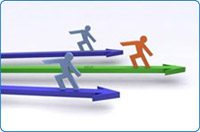 It is difficult to imagine an internal audit function having all of the technical and expert resources it needs because having permanent staff on hand to meet every internal audit need is not a practical approach. Co-sourcing an internal audit department allows your organization to have all of the technical and expert resources it requires on-demand, without requiring that expertise as part of the full-time staffing head-count. Deblankson's breadth of expert resources enables us to serve as a highly qualified partner to your business.
Our assistance focuses on helping Internal Audit Directors assemble specific skills to meet the requirements of their annual internal audit plans. Deblankson may augment existing full time team members, provide seasoned expertise for key areas where it might be uneconomical to retain such expertise in-house, or provide precise value-added solutions to address essential business or departmental needs. This allows the Internal Audit Director to concentrate on critical process areas as well as take action immediately to special audit requests.
In Focus
Financial Regulatory Reform: The Fundamentals – A guide to understanding the proposals presented by the Obama Administration to reform regulation of the financial services industry in the U.S. and the impact that these proposals will have on the industry.

IFRS – An Overview of the International Financial Reporting Standards, the key differences with the US Generally Accepted Accounting Principles and its impact on organizations today from a business, financial and technology perspective.

IT Internal Audit – This white paper highlights some leading edge observations on current trends and challenges facing the IT internal audit landscape.

Program Management – Learn more about Deblankson's approach to program management.