Home » Solutions » Internal Audit » IA Full Outsourcing
IA Full Outsourcing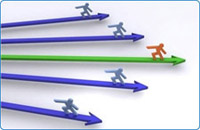 The internal audit requirements of each organization are unique. As a result of demand for a high-level of service, expertise, and cost efficiencies organizations may prefer to have Deblankson meet all of their internal audit needs under a continuous, full-service outsourcing arrangement. Under this arrangement, Deblankson will report to the Audit Committee and a corporate officer in order to assure the appropriate level of objectivity and independence. Our professionals have assisted organizations using this approach, each one tailored to meet the client's specific needs and requirements.
Deblankson's internal audit methodology can be used completely or in combination with the client's existing methodology as the framework to develop, execute and track a risk based internal audit plan. The plan will assist the client in managing process and technology risks and smoothly integrating technology within critical business processes. These services will aid management to better understand and monitor the performance of critical operations and support functions as well as ensure the adequate levels of controls.
Deblankson's internal audit outsourcing services provide the following advantages:
It allows management to concentrate on strategic initiatives, improving resource utilization
It eliminates the time and cost associated with sourcing, hiring, training, and retaining skilled personnel in non-core competency areas
It provides our clients with assurance to external parties and compliance with applicable laws and Regulations
It provides independent process and IT internal audit sourcing capabilities using industry leading practices
It provides deep technical and analytical skills related to core process and related control assessments
It can often provide clients with opportunities to reduce overhead costs
In Focus
Financial Regulatory Reform: The Fundamentals – A guide to understanding the proposals presented by the Obama Administration to reform regulation of the financial services industry in the U.S. and the impact that these proposals will have on the industry.

IFRS – An Overview of the International Financial Reporting Standards, the key differences with the US Generally Accepted Accounting Principles and its impact on organizations today from a business, financial and technology perspective.

IT Internal Audit – This white paper highlights some leading edge observations on current trends and challenges facing the IT internal audit landscape.

Program Management – Learn more about Deblankson's approach to program management.