Home » Solutions » IT Risk & Governance Solutions » IT Effectiveness
IT Effectiveness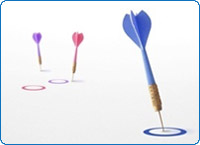 As IT continues to play a larger and more prominent role in influencing business success and shareholder value, business executives are under increasing pressure to clearly articulate and demonstrate the business value of IT, and to prove that IT investments can generate a positive return while supporting business objectives. In order for organizations to continuously improve IT performance, IT must be managed with all the processes, controls and financial rigor of all other business functions. This includes applying the business control disciplines of planning, development and measurement to the practical execution of an IT strategy.
Deblankson provides practical advice to business executives on how they can improve their organization's IT performance by managing IT as rigorously as any successful business. Using proven methodologies and our deep industry knowledge, Deblankson can quickly identify those areas where IT effectiveness in your organization can be improved. We will work with your organization to take a value-driven approach to managing your IT resources at the same time improving performance, managing risks, achieving compliance and reducing costs.
Our Services in this space include:
Pre-merger or acquisition IT strategy and management assessments
Post-merger or acquisition alignment of IT strategy and management
IT Process maturity assessments
IT investments value reviews
Process improvement definition and adoption planning
Control driven process improvement
IT Department re-organization advisory
In Focus
Financial Regulatory Reform: The Fundamentals – A guide to understanding the proposals presented by the Obama Administration to reform regulation of the financial services industry in the U.S. and the impact that these proposals will have on the industry.

IFRS – An Overview of the International Financial Reporting Standards, the key differences with the US Generally Accepted Accounting Principles and its impact on organizations today from a business, financial and technology perspective.

IT Internal Audit – This white paper highlights some leading edge observations on current trends and challenges facing the IT internal audit landscape.

Program Management – Learn more about Deblankson's approach to program management.